Honey Trail South Tour
Honey Trail South Tour
Catch the buzz: Exploring beekeeping and more in Southern Albania
Following the footsteps of Albania's long tradition of beekeeping, this Honey Trail takes us to the South of the country: We visit three important honey regions: Korça, Përmet and Llogara-Palasë. We discover the national parks of Butrint, Llogara and Fir of Hotova and one of Europe's last wild rivers, the Vjosa. We visit bees and their keepers, experience Albania's rich nature that provides such excellent conditions for beekeeping and delve into its ancient history at places like the UNESCO sites Gjirokastra and Butrint.
Day 1: Tirana
Hotel transfer. In the evening, we take a walk in the city centre and enjoy a welcome dinner.
Day 2: Tirana - Lake Ohrid
We visit the Kuqi Organic Farm and meet the head of the Albanian Beekeeping Association. She shares with us her passion for bees and honey specialties from different regions. The owners of the farm provide us with a wonderful homegrown lunch and a first-hand experience of organic agriculture in Albania. In the afternoon, we head towards the Korçë region. In time for dinner, we arrive in Lin, a small peninsula on Lake Ohrid, one of Europe's oldest lakes.
Day 3: 

Korça

- Rehova

After taking in the beautiful sunrise over the lake, a visit to a local beekeeper near Korça town takes us into the heart of beehives and queen rearing. Afterwards, we explore the sights of Korça, the 'little Paris of Albania', and may enjoy a Korça Pils Blonde for lunch. We continue our journey to the village of Rehova at the bottom of Gramozi Mountain. It was finely built by master stonemasons whose work we discover on the 'Route of Gates'. A homestay for the night offers a great chance to experience the local hospitality.
Day 4: Përmet

We continue to Përmet - surrounded by amazing mountains, it is home to many gastronomic treasures such as the 'mjalt mare'. We arrive in time for the harvesting of this unique honey specialty from the pollen of the arbutus tree. A beekeeper in Carshova gives us an insight into the secrets of mjalte mare and its properties. An afternoon walk takes us to the secluded church of Leusë with wonderful views of the Vjosa valley before we taste local wines and the best raki at a winery.
Travel date
October 7 - 14, 2018
Price per person

Early bee rate til 31.3.2018:  965EUR
Normal price:  995 EUR
Single room supplement:  100EUR
Travel package
• 7 nights accommodation & breakfast
• 7 dinner and 6 lunch meals (incl. 1x picnic lunch)
• Local German-speaking tour guide
• All transfers and activities as detailed in the itinerary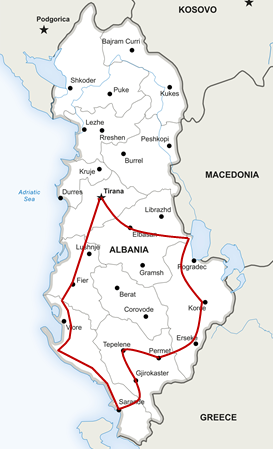 Day 5: Përmet - Gjirokaster -  Saranda
We explore the impressive Langarica Canyon on foot and take a bath in the thermal springs of Bënjë. In Gjirokastra, we do not only take time to explore the 'old town': Honey is an essential ingredient of the Albanian cuisine and we will embark on a gastronomic adventure and give a helping hand in the preparation of a traditional lunch 'me mjaltë' (with honey). We reach the Ionian sea in time for dinner and a late evening walk along the pier.
Day 6: Butrint - Dhermi
We visit Butrint National Park – an archeological and environmental haven: The ancient ruins are a "microcosm of Albanian history" and the lagoonal landscape one of Albania's most important wildlife environments. Bring your binoculars along if you like some high class birdwatching! We continue our journey along the coast to Dhermi. The area is well known for its olive oil and figs but also its honey (bees find plenty of heather, thyme and urdh here) and we learn more about the specialties during our visit with a local beekeeper.
Day 7: Llogara Park - Tirana
Llogara National Park, where the mountains meet the sea is famous for its vibrant flora and fauna and bees here have more wild flower species to choose from than anywhere else in Europe. A ranger takes us for a hike in the Llogara Park getting a fascinating insight into the bee's forage, while enjoying spectacular vistas of the Albanian Riviera and a picnic. On our way back to Tirana, we stop at the Ardenica monastery with a stunning view over the Plain of Myzeqe before a farewell dinner awaits us.
Day 8: Departure
Breakfast & airport transfer
Please note: The itinerary may be subject to change if circumstances demand it.