Honey Trail North Tour
Honey Trail North Tour
Bee-amazed: Discovering beekeeping in the mountain scenery of Albania's North
Following Albania's long tradition of beekeeping, this Honey Trail takes us to the North of the country: We visit two important honey regions: Lezha, particularly known for its sage honey and Tropojë, famous for its chestnut honey. We discover the national park of Valbonë and the nature reserve Gashi river - one of the 'last islands' of wild virgin forests in Europe. We visit bees and their keepers, experience Albania's amazing nature that provides such excellent conditions for beekeeping, taste the goodness of Albanian cuisine and delve into the country's ancient history at places like Shkodra, Pukë and Krujë.
Day 1: Tirana
Hotel transfer. After a walk in the city centre, we enjoy a welcome dinner.
Day 2: Tirana - Lezhë region - Shkodër

We visit an organic farm and where we get to taste honey specialties from different regions. We enjoy a wonderful homegrown lunch and a first-hand experience of organic agriculture in Albania. Our journey continues to Lezhë county to meet honey producers committed to the quality honeys of northern Albania and get a taste of the flavours of Albania's native Kallmet at a winery (kantina) before we reach Shkodër.
Day 3:

Shkodër



We explore the south shore of Lake Shkodër, enjoying gorgeous views of the lake below Mount Tarabosh and insights into the artisanal production of qilim (the typical carpets) at a local weaving workshop. And there is of course time for a dip in the lake! In the afternoon, we drive to a remote village where we meet with a cooperative of farmers to learn more how beekeeping supports local livelihoods.  Back in Shkodër, there is time to discover its historic centre for dinner.
Day 4: Shkodër – Koman Lake - Dushaj – Valbonë

We head for the Albanian Alps and there is no better way for that than taking the ferry along the Koman reservoir to Fierzë: It offers impressive views of the mountain gorges on what is described as "one of the world's great boat trips". We arrive in time for the harvesting of the chestnut honey and visit a beekeeper in the heart of Tropoja's chestnuts massif to learn more about the production of this specialty. Staying in Valbonë, we enjoy the breathtaking panorama of high peaks and a stunning spectacle of stars at night.
T

ravel time
Best travel time is from May to August
Price per person

Our tour prices depend on the group size. Please get in touch for a customised offer and our Early-Bee options
Travel package
• 7 nights accommodation & breakfast
• 5 dinner and 6 lunch meals (incl. 1x picnic lunch)
• Local English-speaking tour guide
• Guided birdwatching excursion
• Hiking guide in Gashi river
• All (entrance) fees
• Airport transfer (group)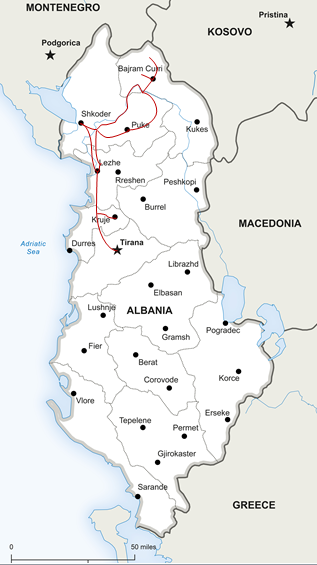 Day 5: Tropojë - Gashi river

We set off with a local ranger to discover Albania's latest UNESCO World Heritage site - the Gashi River. This remote Strict Nature Reserve is a hidden gem located in the border zone with Montenegro and Kosovo and forms part of the European Green Belt. With a picnic-lunch in our backpacks, we explore this extraordinary valley with its natural beauty meandering through narrow ravines, slopes covered with forests and a unique flora and fauna. After a day's hike we enjoy the traditional dinner of Tropojë.
Day 6: Tropojë - Pukë

Our journey continues via the Fierza reservoir to Pukë: Off the beaten track, the town itself is at 838 metres one of the highest in Albania. It is known for its rich tradition and alpine nature, surrounded by caves, lakes, and chestnut trees. We explore the region with a visit to the wonderful 'At Mhill Troshani': A unique village initiative in the remote Kçirë that sells their organic produce across Albania. We meet with a beekeeper at her apiary, getting up close with her bees and the apiculture in the region. In the evening is time for a visit to the local brewery to broaden our taste horizons with some Puka Birra.
Day 7: Pukë - Vau I Dejës - Krujë

We embark on a boat trip to the lush green Shurdhah Island in the Vau i Dejës Reservoir: Once the site of the Illyrian settlement Sarda it offers spectacular views over the lake while exploring the ancient ruins. We continue to Fishtë for an excellent Albanian slow food experience at the Mrizi i Zanave. The charming medieval Krujë is our final stop: It boasts enormous historical importance as the center of the first independent Albanian state. Located at the foot of Mount Krujë it offers us spectacular views all the way to the Adriatic Sea.
Day 8: Krujë - Airport
Breakfast & airport transfer
Please note: The itinerary may be subject to change if circumstances demand it.
Telephone: +49 176 40330762
E-Mail: Info@beealbania.org