Honey Trail South Tour
Honey Trail South Tour
Catch the buzz: Exploring beekeeping and more in Southern Albania
Following the footsteps of Albania's long tradition of beekeeping, this Honey Trail takes us to the South of the country: We visit three important honey regions: Korça, Përmet and Llogara-Palasë. We discover the national parks of Butrint, Llogara and Fir of Hotova and one of Europe's last wild rivers, the Vjosa. We visit bees and their keepers, experience Albania's rich nature that provides such excellent conditions for beekeeping and delve into its ancient history at places like the UNESCO sites Gjirokastra and Butrint.
Day 1: Tirana
Hotel transfer. In the evening, we take a guided walk in the city centre and enjoy a welcome dinner.
Day 2: Tirana - Lake Ohrid
We visit an Organic Farm and meet with a representative of the Albanian Beekeeping Association. The owners of the farm provide us with a wonderful homegrown lunch and a first-hand experience of organic agriculture in Albania. In the afternoon, we continue to Lake Ohrid and discover the beautiful peninsula of Lin with extraordinary floor mosaics of an early Christian basilica.
Day 3: 

Korça



After a beautiful sunrise over the lake, a visit to a local beekeeper takes us into the heart of beehives and honey production. Afterwards, we explore the sights of Korça, also referred to as the 'little Paris of Albania', including the old Korça Bazaar and the historic Mirahori Mosque.
Day 4: Përmet

We continue to Përmet at the foothills of the mighty Nemerçka mountains and home to many gastronomic treasures such as wine, raki and the Arbutus honey (mjalt mare). An afternoon hike takes us to the secluded church of Leusë with wonderful views over the Vjosa valley. In the evening we are invited to a visit a local family.
Day 5: Përmet & Vjosa

A local beekeeper introduces us to the beekeeping tradition and honey specialities in this area. Afterwards we explore the Vjosa, one of the last wild rivers of Europe per boat during a rafting trip. After a picnic we get to relax in the thermal springs of Bënjë and explore the impressive Langarica Canyon. In the evening we get our taste buds going at a winery with local wines and the best raki.
Travel time
Best travel time is from August to October
Price per person

Our prices depend on the group size. Please get in touch for a customised offer and our Early Bee options
Travel package
• 8 nights accommodation & breakfast
• 7 dinner and 7 lunch meals (incl. 2x picnic lunch)
• Local English-speaking tour guide
• Guided rafting tour on the Vjosa
• Local guide and ranger in Butrint and Llogara National Park
• All entrance fees
• Airport transfer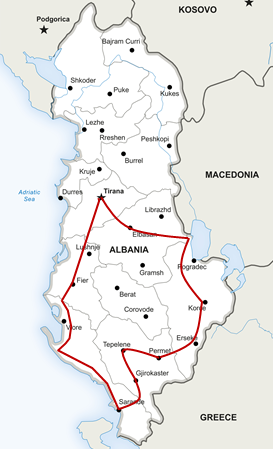 Day 6: Gjirokaster -  Saranda
In the morning, we head to Lunxhëri, where we have the unique opportunity to get an insight into certified organic beekeeping practices in Albania. Afterwards, we take time to explore the old town of Gjirokastra which is spread at the feet of the Mali i Gjerë Mountains (the Big Mountain). We make a stop at the famous Blue Eye spring before we reach the Ionian sea in time for dinner and a late evening walk along the pier.
Day 7: Butrint - Llogara National Park

We visit Butrint National Park – an archeological and environmental haven: The ancient ruins are a "microcosm of Albanian history" and the lagoonal landscape one of Albania's most important wildlife environments. Bring your binoculars along if you like some high class birdwatching! We continue our journey along the coast to Palase. The area is well known for its olive oil and figs but also its honey (bees find plenty of heather, thyme and urdh here) and we learn more about this specialty during our visit with a local beekeeper.
Day 8: Llogara Park - Tirana
Llogara National Park, where the mountains meet the sea is famous for its vibrant flora and fauna and bees here have more wild flower species to choose from than anywhere else in Europe. A ranger takes us for a hike in the Llogara Park getting a fascinating insight into the bee's forage, while enjoying spectacular vistas of the Albanian Riviera and a picnic. On our way back to Tirana, we stop at the Ardenica monastery with a stunning view over the Plain of Myzeqe before a farewell dinner awaits us.
Day 9: Departure
Breakfast & airport transfer
Please note: The itinerary may be subject to change if circumstances demand it.
This Honey Trail tour does not fit you itinerary-wise? We're happy to tailor a personalised Honey Trail experience  according to your preferences and expectations.

Telephone: +49 176 40330762
E-Mail: Info@beealbania.org