Honey Trail 2018: Planning is in full swing!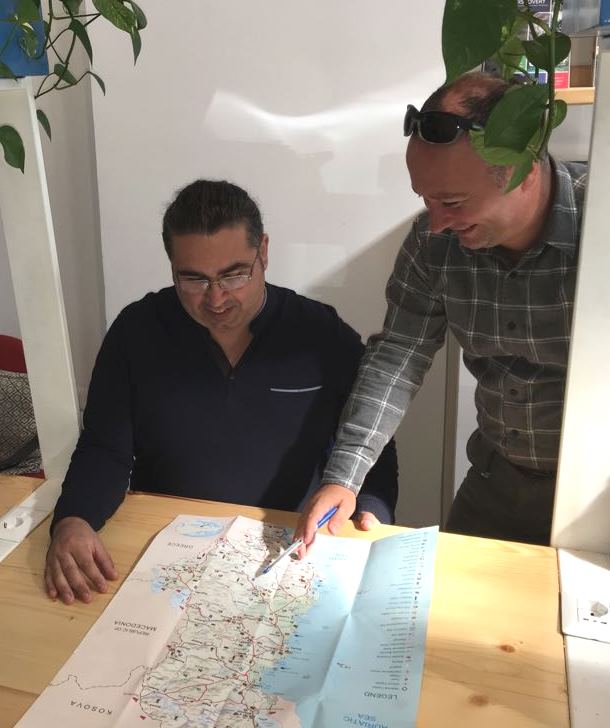 The marvelous Honey Trail team of Sondor Travel: Dorien and Nardi (missing here is Taulant) discuss the best Honey Trail itineraries.  
The planning for the 2018 Honey Trail is in full swing!
We are very happy to offer two Honey Trail tours next year. Starting from Tirana, one will explore the North of Albania while the second tour will discover the South of the country:
 In May / June, the Honey Trail takes us to the Lezha region, renowned for its sage and heather honey. We continue to Shkoder and, following some first class birdwatching head towards the Albanian Alps.  Tropojë is our destination with its vast chestnut forests, famous chestnut honey and near the Gashi river which recently received UNESCO protection as an extension of the World Heritage site of the Primeval Beech Forests.
In early October, the Honey Trail leads us to Albania's three key honey regions: Korça, Përmet in the heart of the Vjosa Valley, one of the last intact large river systems in Europe and Llogara-Palasë with spectacular vistas along the Albanian Riviera. On the way, we visit the national parks of Butrint, Llogara and Fir of Hotova and delve into Albania's ancient history, visiting historic places such as Gjirokastra  or the ruins of Butrint.
In addition, we offer tailor-made Honey Trail tours: You are a group of min. 5 persons - friends, hobby beekeepers or professional apiarists - and want to discover Albania long tradition of beekeeping? We will be happy to prepare a unique Honey Trail experience for you.
We will finalise and publish the Honey Trail 2018 tour details in early November. Watch out for more information and our early bee rates here and on our Facebook page.
We look forward to welcoming you on the Honey Trail in 2018!