A culinary tour to Central & South Albania
We are happy to share the exciting news about a very special offer this year for German-speaking visitors: A culinary tour to Albania in cooperation with the Insel Verlag and the Berlin-based travel agency Nadia Faraj - Personal Travel Solutions that specialises in sustainable travel experiences.
Albania's cuisine is a unique mediterranean-oriental mix. During more than 40 years of communist rule, the country's centuries-old culinary traditions were almost lost. However, a growing alliance of Albanian chefs is committed to honoring and reinventing this heritage. Among them is Bledar Kola, one of the most celebrated chefs and a tireless ambassador of Albanian cuisine around the world.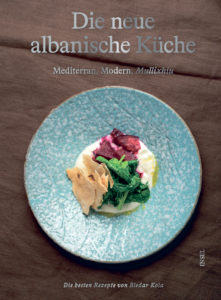 At the end of 2019, the Insel Verlag, a German publishing house, published a cookbook of Bledar Kola in cooperation with Ursula Heinzelmann, in which he shares his interpretation of traditional Albanian dishes.
Inspired by Bledar Kola and his vision, we crafted a 10-day tour to Central and South Albania on the trail of Albania's cuisine and Slow Food movement: We will discover with Bledar Kola his interpretation of the traditional Albanian cuisine. We'll be enjoying culinary experiences with his colleagues from the Albanian Slow Food Chef Alliance and will learn about traditional products and dishes and their preparation. Visits with agricultural cooperatives, olive farmers, wineries and Slow Food Convivia provide us with further insights into the culinary heritage of Albania and its renaissance. Along the way, we take the time to explore one of Europe's last wild rivers and discover the country's history in UNESCO World Heritage sites such as Butrint and Berat.
For more information on the itinerary, click on the flyer below or  here.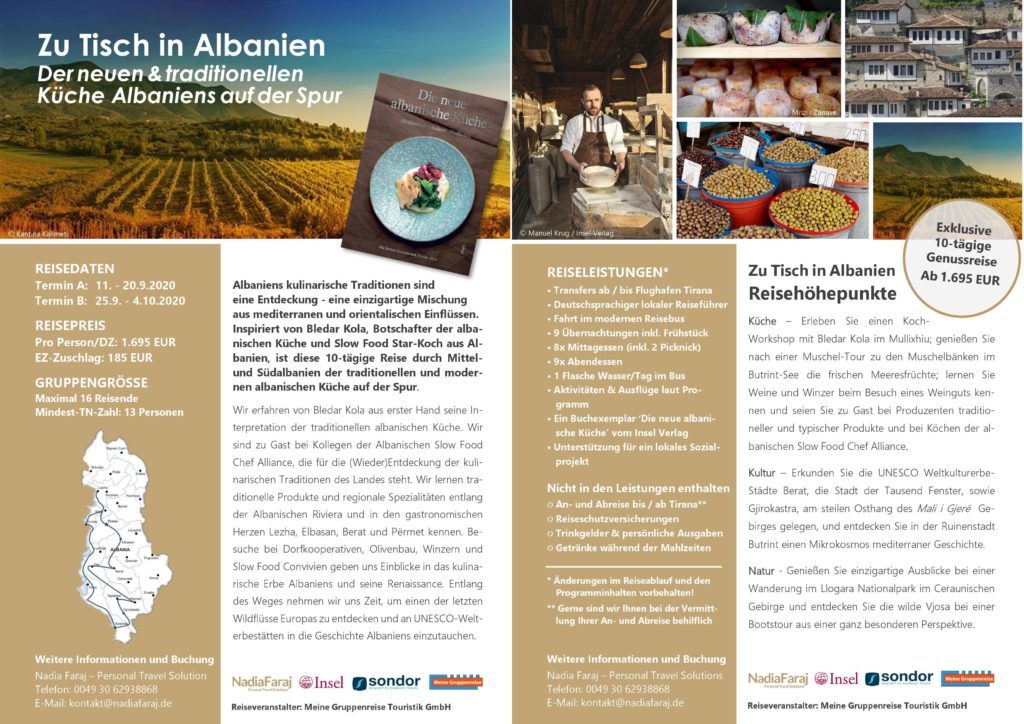 We look forward to welcoming you to this exclusive small group tour!
For further details and booking please get in touch directly with our partner Nadia Faraj:
Nadia Faraj – Personal Travel Solutions
Telefon: 0049 30 62938868
E-Mail: kontakt@nadiafaraj.de